When choosing a new roof, consider these six important factors to determine the best roof for your house.
How long will it last?
How is it rated for high winds or wildfires?
Is it too heavy to support the existing roof framing?
How will its appearance impact the look of the house and the neighborhood?
Are the materials environmentally friendly?
And finally, how much will it cost?
For decades, three-tab asphalt shingles were the most popular roofing material. In the 1970s thicker shingles started being manufactured that imitated the 3-dimensional profile of natural wood or slate shingles.
Today, you can choose from several styles of man-made asphalt shingles, as well as natural roofing materials like wood and slate.
Asphalt Shingles
Pros:
The big advantage to asphalt (composition roofs) is their relatively low upfront costs. They are also quick and easy to put up and tear down.
Fiberglass asphalt shingles are made with a base layer of glass fiber reinforcing mat. This mat is coated with asphalt which contains mineral fillers to make the shingles waterproof.
An asphalt shingle has granules covering the top of the shingles to help deflect potentially damaging UV rays.
Some fiberglass asphalt shingles are fairly fire resistant and most asphalt shingles are not damaged by algae, which can harm other roof types.
There are lots of colors, patterns, and style options.
Cons:
A disadvantage to some asphalt shingles is that hailstones or falling tree limbs can crack or break the shingles, potentially causing roof leaks.
Asphalt is a semi-solid form of petroleum, making them not as environmentally friendly as other roofing materials.
The three asphalt style options are:
3-tab Asphalt Shingles
This style of shingle is lightweight and flat. They are easy to recognize because the exposed portion of the shingle is notched to produce three tabs that appear separate.
3-tab asphalt shingles are the most basic and least expensive roof shingle. They are not as long lasting as other premium roofing choices, averaging about 20 years.
Most 3-tab shingles are only rated for 60 to 80 mph wind uplift, so they are unsuitable for high-wind and hurricane prone areas.
Architectural Style Shingles
These shingles, also called dimensional or laminated shingles, have a thicker base layer of asphalt-saturated fiberglass. This adds a beautiful 3-dimensional profile to a roof, imitating natural wood or slate shingles.
Architectural shingles withstand high winds and are rated between 110mph – 130 mph.
They also last longer than 3-tab shingles. Manufacturers offer limited warranties of 20 to 50 years on architectural shingles.
Though they cost more than 3-tab shingles, their beauty and longevity make them a good choice, especially on upscale homes.
Premium Style Shingles
These shingles are thicker and heavier than architectural shingles. Distinct cuts and higher profiles make them appear even more like genuine slate and cedar roofing.
Premium style shingles are the highest priced asphalt shingle.
Tile Shingles
Pros:
For a long-lasting roof, tile shingles are excellent, enduring 80 years or more.
Tile shingles are stylish and visually appealing. They are ideal for Colonial, Spanish, or Mediterranean style homes.
Tile shingles can be molded into several different shapes and are available in lighter colors, which help keep the roof cool.
Cons:
Tile Shingles are a pricey option, usually at least twice as expensive as asphalt.
They also may be too heavy to be placed on a roof that previously had asphalt shingles.
Tile shingles can sometimes leak or form small cracks or holes. They can also break.
Wood Shakes
Pros:
Wood shingles are durable, lasting between 30 and 50 years.
Wood shingles are available in cedar and redwood and are more environmentally friendly than other types of shingles.
Wood shingles are also an energy-efficient option. The price of wood shingles falls between asphalt and tile shingles.
Cons:
One major problem with wood shingles is their potential to catch fire.
Wood shingles are more difficult to install.
Measures need to be taken to keep the roof from being ravaged by termites and mold.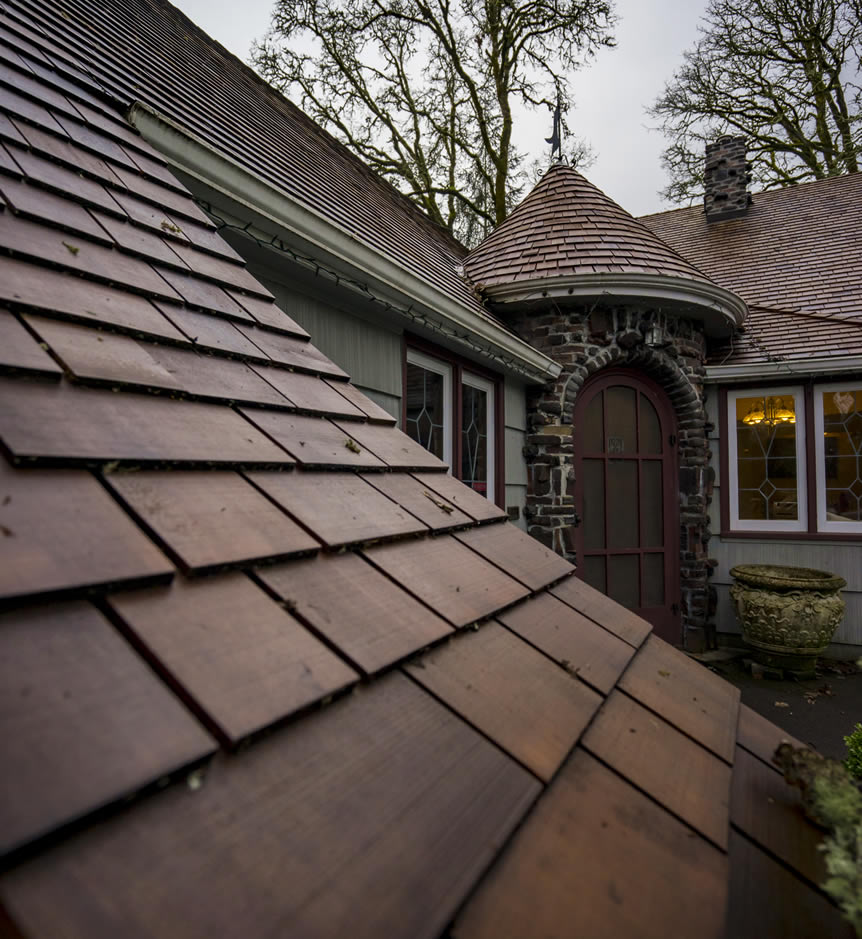 Slate Shingles
Pros:
The biggest advantage to installing a slate roof is its attractive appearance. The natural stone has a cleft surface with beautiful color variations spanning the entire roof.
Slate shingles are water and damage resistant. They have a long lifespan – 80 to 100 years or more.
Cons:
Slate roofs are extremely heavy and the roof deck needs to be reinforced to hold the weight.
The biggest disadvantage is the expense of the slate and the cost of installation, which is many times higher than asphalt shingles.
Metal Panels
Pros:
Metal roofs come in a broad array of colors and designs that replicate traditional slate, tile and wood shake roofs.
Metal roofs have a long lifespan. Most metal roofs are warranted for 50 years or more.
They are top rated for wind resistance, impact resistance and fire resistance.
Metal roofs require minimal maintenance and upkeep.
They are energy efficient and can usually be recycled once removed. Metal roofing is lighter in weight than other high-end roofing materials like slate.
Cons:
Metal panels are not as expensive as wood shakes, tile or slate, but they have a higher up-front cost compared to asphalt shingles. However, they do last longer.
Saltwater and salt fog can have a corrosive effect on metal roofs.
Some metal roofing systems are complex to install, adding to their cost. They require expert installation.