The number one roofing material in the United States is asphalt shingles and it's easy to understand why. They perform well, offer a wide range of architectural designs, and have a long lifespan. Look further at these advantages:
Versatility
Asphalt shingles can mimic the look of slate, wood shakes, and even tile. For a Victorian style home, asphalt shingles can be scalloped; for a traditional Colonial style house, the shingles can be squared. And for a historical home, the shingles can be made to have a weathered look.
If you have a large or complicated roof style, asphalt shingles can cover the many different angles, shapes, and forms seamlessly.
Affordability
With asphalt shingles, you can get the look of slate or wood shakes at a much lower cost. When an asphalt shingle is damaged, it is easier to replace than other materials. Because of the modular nature of shingles, a small, damaged section of the roof can be repaired, without replacing the entire roof.
Longevity
Shingles typically last twenty to thirty years for the lower-end flat types and up to 50 years for three-dimensional architectural shingles.
Energy Efficiency
Energy Star rated shingles utilize lighter, highly reflective granules that bounce back the sun's rays. By reflecting solar energy, these "cool roof" shingles can lower air conditioning costs.
Vast Number of Color Choices
Pick the right shade of roofing material to coordinate with the rest of your home. Need to match the paint or the bricks? The huge selection of asphalt shingle colors makes that possible.
Monochromatic colors like black, white, and grey add drama and classic elegance to traditional home designs.
Warm, earthy tones help your home blend into its natural surroundings. This is a good choice in a rustic or casual setting. For the Pacific Northwest, roofing shingles in shades or combos of grey, brown, or green harmonize with our natural environment of evergreens.
Flexibility
Asphalt shingles are flexible. Once the roof is in place, if you decide to install a skylight or a new chimney, these features can be added without disturbing the rest of the roof. This is not always true of other types of roofs.
Shingles are fairly lightweight and have a flush shape that makes them resistant to wind damage. Their flexibility makes them more resistant to damage from hail, fallen branches or other airborne debris from storms. The granular surface is water-resistant, making rain easily fall off the roof.
Performance
When installed as part of a complete roof system, asphalt shingles offer superior protection against external fire hazards.
Shingled roofs insulate sound and can be much quieter than metal roofs during large downpours and hail.
If you are considering a new roof, asphalt shingle roofing is an attractive option. Consider its versatility, affordability, longevity, energy efficiency, huge color choices, flexibility, and performance. Then you'll understand why it is today's most popular choice.
The roofing experts at Pfeifer Roofing can provide you with a free inspection and professional advice on what your options are.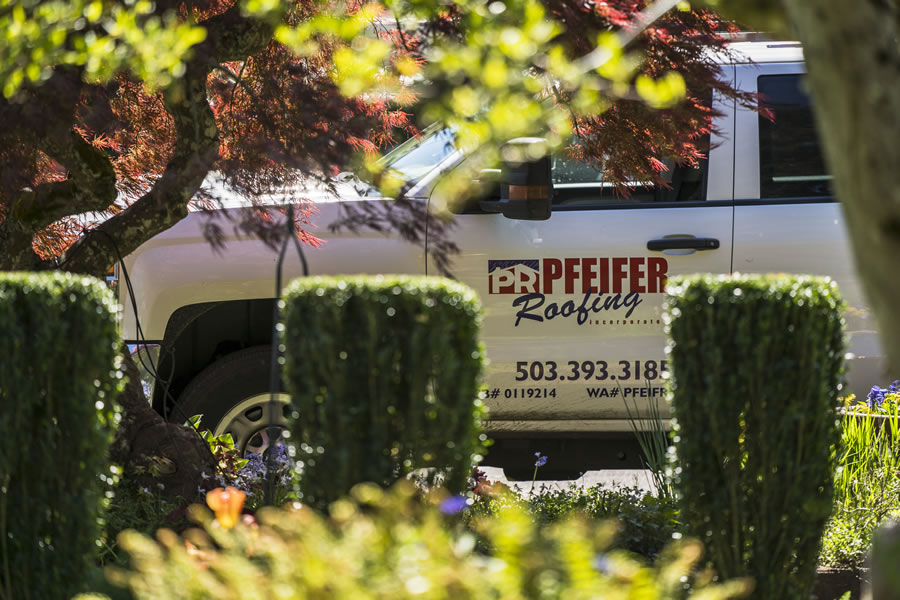 The roofing experts at Pfeifer Roofing can provide you with a free inspection and professional advice on what your options are.